How To Run A Successful Fundraising Campaign: Bubbles For Madden Case Study
Do you remember your first lemonade stand? Perhaps you might better remember your first catalog fundraiser selling wrapping paper and pies? Whether you had your eye on a Cabbage Patch Doll at the store or were raising money for that year's school field trip, there was an ultimate goal that drove you to make the most out of your campaign.
In this case study, I'm going to share the key elements to running a very successful fundraiser and achieving your campaign goals.
INTRO
It's pretty safe to say that fundraising is a simple concept and one that we learn at a very young age. As we grow older, the concept remains the same but the purpose behind each campaign is likely to become a tad more complicated than purchasing the latest trend at the toy store or exploring the local children's museum.
When you think of fundraisers as an adult, what is your initial thought? Probably something like a 5K to raise money for Breast Cancer research or maybe a car wash for your daughter's cheerleading squad to buy new uniforms.
You see, regardless of the goal, fundraising is a pretty basic concept. But what really sets one fundraiser apart from the others? You guessed it. Marketing. How are you going to move people to hand over their hard earned money to support your cause?
In today's world, fundraising is very easy to do online. You can set up a Go Fund Me Page and Facebook is an excellent tool for spreading the word. You can, of course, keep it old school and hit the pavement … waiting outside grocery stores or leaving jars at the local donut shop. Whichever avenue you wish to take, are you giving thought to your target audience? Are you really maximizing your efforts to yield the greatest results?
I have participated in my share of walks for Alzheimer's, Breast Cancer research, and eating disorder support. All of which I raised a modest amount of money for by doing minimal amounts of posting online or just talking about it with people during coffee breaks. Nothing spectacular but every little bit helps. I never gave it much thought until I created a fundraiser of my own for a cause that was extremely important to me.
MADDEN
My senior dog, Madden, had been diagnosed with several ailments … one of which was a cancerous growth on his spleen. At the time, it was recommended that the growth be removed and that the other diagnosed conditions be continuously treated. He also would need weekly physical therapy.
I know everyone's feelings towards their dogs is different. Everyone makes the personal decision as to what level they are willing to go for their dog and how much money they are willing to spend. You see, Madden was my best friend. He had been by my side for the last 12 years. He walked me down the aisle at my wedding. He welcomed our daughter into our home when she was born. He was my boy and I wasn't about to give up on him based solely on financial constraints.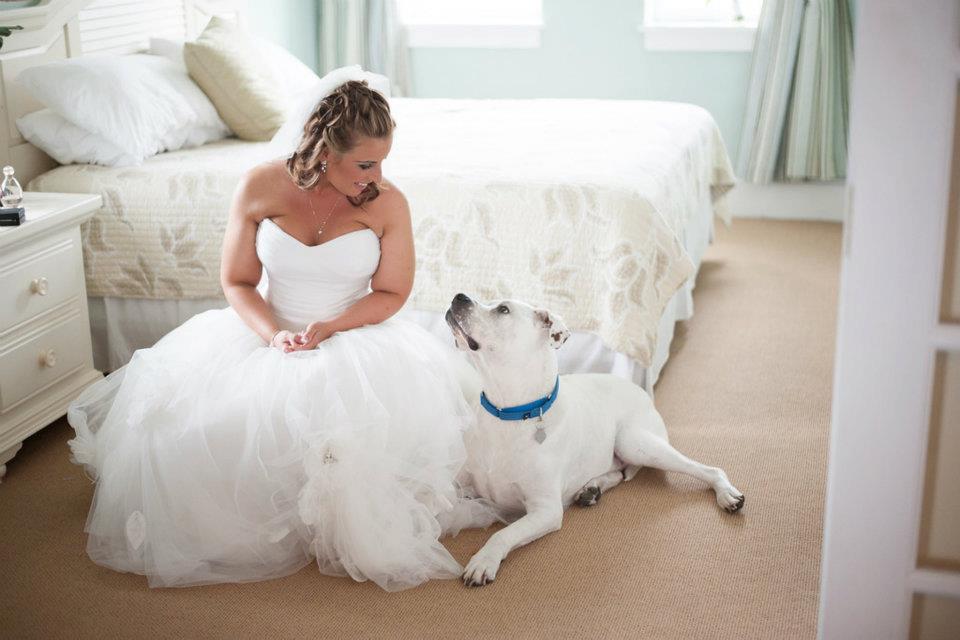 After the veterinarian gave me the estimate for the planned surgery and I calculated how much his continued supportive care would cost, I knew our family simply didn't have that kind of money. However, I didn't feel right about starting a Go Fund Me Page. I much preferred to raise money in a way where the people who donated toward Madden's care would know they were getting something in return. This was how "Bubbles for Madden" was born.
#BUBBLESFORMADDEN
With the help of many supportive friends and professional contacts I had made over the years, I was able to orchestrate a fundraising campaign for Madden that included a dog wash and T-shirts.
First thing was first ... I needed a logo. Logos are not just for businesses or organizations. They are your brand. They tell a story. They make a first impression. I needed a logo for Madden's campaign so I reached out on Facebook to any graphic designers who might be willing to design one for me. I was beyond thankful that my friend, now business partner, Jamie was so willing and excited to donate her services and create a logo for me!
Since the campaign centered around Madden, I wanted to incorporate his picture somehow. The end result was a logo that had personality … it was fun and, without a question, it was Madden. From a functional standpoint, it was clean and clear. Perfect for print and eye catching for social media.
Unlock the rest of the secrets to fundraising by downloading a copy of the full Case Study!